Line 7:
Line 7:
 

The priests, devout worshipers of [[Yurian]], the God of Justice, are able to heal and protect their allies in battle. Priests rely solely on Yurian and their blessed power, rather than heavy armor and weaponry. Their unshakable faith, however, can become a downfall for they rely only on their God and power.

 

The priests, devout worshipers of [[Yurian]], the God of Justice, are able to heal and protect their allies in battle. Priests rely solely on Yurian and their blessed power, rather than heavy armor and weaponry. Their unshakable faith, however, can become a downfall for they rely only on their God and power.

 
 
 
+

== Overview ==

 
+

''Divine warriors blessed by the Gods''

 
+
 
+
 
+

Priests channel the power of the gods to heal and protect their allies. They reject heavy armor and weaponry in return for the potent tools of their deity. As long as the divine connection remains strong, priests are resolute in battle.

 
 
 

== Mechanics and Skills ==

 

== Mechanics and Skills ==
---
Revision as of 00:33, 29 March 2010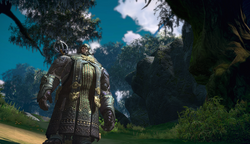 Priest
| | |
| --- | --- |
| | "Divine warriors blessed by the Gods." |
The priests, devout worshipers of Yurian, the God of Justice, are able to heal and protect their allies in battle. Priests rely solely on Yurian and their blessed power, rather than heavy armor and weaponry. Their unshakable faith, however, can become a downfall for they rely only on their God and power.
Overview
Divine warriors blessed by the Gods

Priests channel the power of the gods to heal and protect their allies. They reject heavy armor and weaponry in return for the potent tools of their deity. As long as the divine connection remains strong, priests are resolute in battle.
Mechanics and Skills
Receiving protection from the gods, priests stay close to their allies to protect them. This class has the ability to heal its allies and to debuff their enemies in order to make battle safer.

Priests use staves and are armed with divine magic to damage their enemies. They are considered very reliable by their allies. Priests who are protected and blessed by the god of justice Yurian use their divine magic to heal wounded allies and curse their enemies to ensure the safety of themselves and their allies.
Statistics
Vitality Stats


Basic Stats


Damage: 32
Defense: 13
Movement Speed: 110
Critical Hit: 20

Basic Attack Inf


Direction: Forward
Range: 10M
Target-Type: Single Target
Attack Speed: 0.6
MP Change: -3

Resistance Stats


Critical Hit: 25
Root/Hold: 70
Poison/Disease: 90
Addiction: 70
Confusion: 90

Equipment Stats


Weapon Damage: 7
Armor: 10

Compare with other classes: Class Comparison
Gallery