Jurassic World: Dominion Dominates Fandom Wikis - The Loop
Play Sound
| | |
| --- | --- |
| | Some or all of the information on this page has been taken from a community play event. Keep in mind that any of the information found here is subject to change as the game continues to develop. Some of the information may be mid-translation and thus may refer to something by the wrong name or have mistakes contained. Once more suitable information is found, please remove the {{cpe_disclaimer}} tag from the top of this page. You can view more pages with the same disclaimer by going to Category:Cpe_disclaimer. |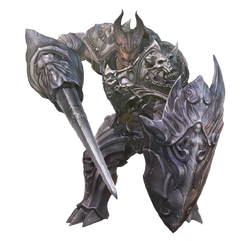 Lancer
| | | |
| --- | --- | --- |
| " | Stoic guardians that show no fear in the face of their enemies. | " |
The lancers are trained to wield the shield as an extension of their own body. Because of the shield, lancers are mostly known for their defensive capabilities, not only protecting themselves but also others around them. The lancers are considerably slower than other classes due the sheer weight and size of the shield. Therefore, lancers learn to wield a spear along with their shield.
Overview
Stoic guardians who attack and defend with equal skill

Lancers wield their shields as powerful weapons in their own right. They are stalwart defenders, protecting and safeguarding their allies from enemy attacks. The sheer weight and bulk of the land and shield make lancers slow and deliberate, but they are as unstoppable as the oncoming tide, and have unmatched reach in close combat.
Mechanics and Skills
The lancer is a class specialized in defense that wields a lance and a shield. They can protect their friends by emitting a shout at monsters who are attacking them, provoking the monsters to run towards you instead. The Shield Block ability doesn't just protect you, but also anyone standing behind you.
Starting Statistics
Vitality Stats


Basic Stats


Basic Attack Inf


Direction

: Forward

Range

: 5M

Target-Type

: Straight Path

Resistance Stats


Binding

: 45

Poison

: 45

Stun

: 45

Combat Stats


Compare with other classes: Class Comparison
Gallery