Obi-Wan Finale - The Loop
Play Sound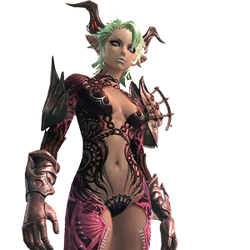 Castanics
| | | |
| --- | --- | --- |
| " | Pioneers of tomorrow, freed from the shackles of ancient oppression. | " |
Overview
Since the fall of their Demon God, the Castanics have suffered unspeakable prejudice and oppression dating far back into the Mythic Ages. As a result, they mistrust others and prefer to go at things on their own. Resourceful and hardy, they draw from their innate individual strength to see them through this Age of Chaos.

Creativity drives thought; courage drives action

Sometimes seen as hedonistic or flighty, Castanic refuse to let their dark past cloud a bright future in the federation. Eager to prove their commitment, Castanics are strong enough and determined enough to do what others might find objectionable.
History of the Castanics
The Castanics have been under pressure from foreign invasion for the longest period of time of all races.

During the Age of Deities, they were driven out from their homeland by their once brother-like Deva race. After the War of the Gods, they were protected by the demon god Roak, who was thought to eventually bring an end to the world. Due to their relationship with Roak, they were treated badly by other races.

The Castanics were able to become a part of the Valkyon Federation with the help of the Humans of Velika and the Amani, but to achieve that feat many young Castanics disappeared to the battlefield.

To counter all the resentment from other races, they have become a very independent race. To this day, they continue to pass down their traditions from generation to generation.

Castanics are short in height, but have strong physical shapes and are swift in motion and melee combat. Their divine magical affinity is in direct contrast with their small stature, often surprising others. Due to their independent nature, the Castanics have become known for having trouble following orders.
Appearance
The Castanics are a demon-like race that feature exotic looks. Both females and males have various shaped horns composed of a solid material atop their heads. Their horns often have patterns on them, which usually include some shade of red coloring. Combined with pointed, elongated ears this gives them their exotic and demon-like appearance. To go with their demon-like horns, the Castanics also choose elaborate hairstyles, adding to their exotic appearance. Castanics also feature armored patterns on their bodies, and usually have fair, tanned skin. The Castanics are relatively short in height, though they possess strong physical shapes. This anatomy allows them to be agile and swift allies or enemies. The Castanics are also often seen as a very seductive and sexy race.
Reputation

What other races think about castanics:
| | | |
| --- | --- | --- |
| " | Castanics? They're cool looking and capable of doing many things well. But they are hard to command. | " |
| | | |
| --- | --- | --- |
| " | Castanics? Why would I bother with those insane creatures… no constructive discussion is possible. | " |
| | | |
| --- | --- | --- |
| " | They were friends of our ancestors. Should we not help them when they are in trouble? | " |
| | | |
| --- | --- | --- |
| " | Hmm… so maybe say they don't have any morals? Can't possibly imagine what they are thinking? Cant make them do anything and they grab weapons on a single alert... heheheh, I'd say just avoid them. | " |
| | | |
| --- | --- | --- |
| " | Well they are hard to deal with. They don't like to talk a straight up conversation, and I think for that reason they don't hang out with us. But they are not evil at all. | " |
Image Gallery
Video Gallery