Obi-Wan Finale - The Loop
Play Sound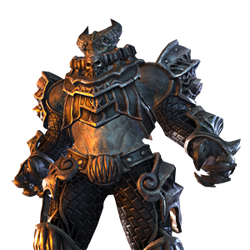 Aman
| | | |
| --- | --- | --- |
| " | Honorable warrior race of savage instincts. | " |
Overview
The Amani have historically been a savage race that has known constant war since the dawn of time. As slaves they fought as conquerors, but after freeing themselves they have learned to temper their primal instincts and now battle for peace. Today, the Amani are a noble and honorable race that upholds freedom and self sacrifice. They now use their brute strength and hardened bodies to protect themselves and their allies from any and all threats.
History of the Amani
Sporting fierce visages of powerful beasts, the Amani have persevered through a history rife with conflict.

The Amani are a warrior race, having been embroiled in constant warfare with the other races since the beginning of time. Since the time that their father and creator, Amarun, gave life to the Amani during the Age of Deities, they have engaged their neighboring races in ceaseless battle. Following the death of Amarun, the Amani became enslaved to the Republic of Giants in its quest for continental supremacy.

Recent times have seen the Amani continue to serve the front line in the defense of the Valkyon Federation from the Argon invaders. Having been inured to a constant struggle for supremacy and pursuit of ambition, the Amani experienced a rebirth into a race that valued freedom, prestige, and self-sacrifice following their long ordeal of enslavement. This transformation contributed greatly to the acceptance of the Aman into the ranks of the multi-racial Valkion Coalition.

The Amani possess imposingly ferocious and mighty physiques and powerful willpower cultured over many years of fighting as warriors. They value and show pride in their aspiration for prestige. link to greatessays
Appearance
As a warrior and reptilian/beast-like race, the Amani feature very strong and tough physiques. Their muscular build is usually adorned with scaly skin and their heads sport various horns. In addition, they are of a height comparable to the Baraka race. Their skin tone consist of earth-like colors giving them a very warm presence. The male faces are rather draconic while the females have a very humanoid face. To express themselves they occasionally have markings on their faces ranging from natural white to a warm yellow. To enhance their physique they usually wear very modern and uniquely styled gear which is well forged or sown in Kaiator itself.
Gallery
Video Gallery